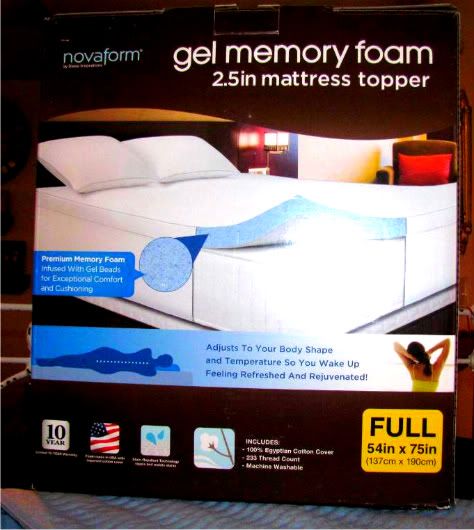 for those of you who have trouble sleeping. wake up in pain. or just down right love comfort. i have some very exciting news for you!
every single morning that i wake up i am in some sort of pain from my tumors. the little brats need their comfort or they will be nasty to me all day. i have tried a pillow top mattress pad but it
didn't
do the trick. my sweet mother even bought me a new mattress but even then i would still wake up in some serious pain. i really thought that comfortable sleeping was just not a possibility for me.
well it recently came to my attention that after i sleep on a memory foam mattress my pain level the day following is dramatically reduced. so, how do i problem solve this? buy me a memory foam mattress! well, at least a
memory foam mattress
topper.
its been a week now since i made the $120 purchase at costco and since then i have been having some of the best sleep ever. no joke. no morning back pain. (neck pain=different story). i cant even think of words to describe it. heaven? perfect? rediculous? you guys, i cant get out of bed. every day i wake up and do everything from on top of my bed. i'm eating in my BED! i try to get ready to start the day....and i take like 10 'lay back on the bed' breaks. its bad.
i seriously have thought about how cool it would be if i could just give these out as gifts all the time. i think everyone needs one. i
want
everyone to have one. after all isn't good sleep vital for good health? please. go buy one of these and let me know how much you start to drool in your sleep.