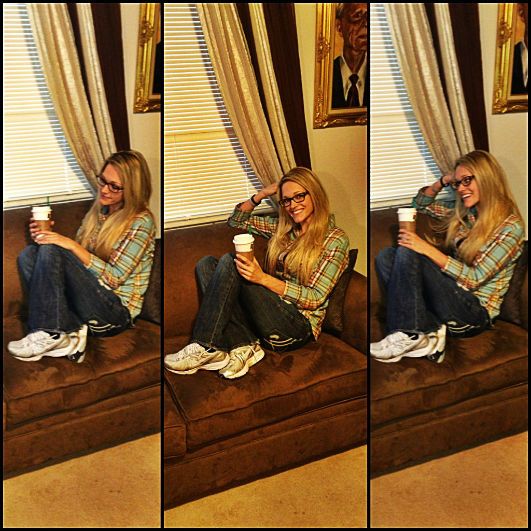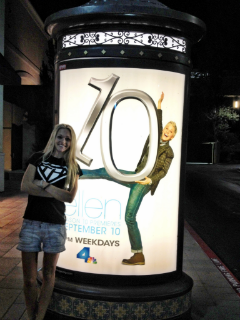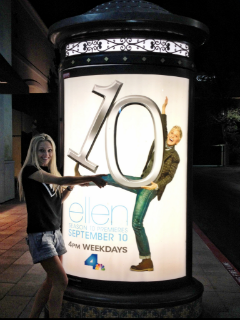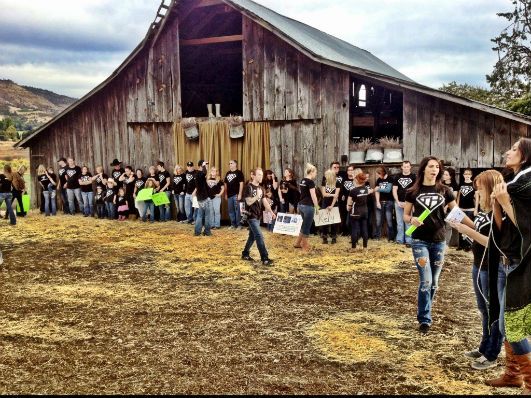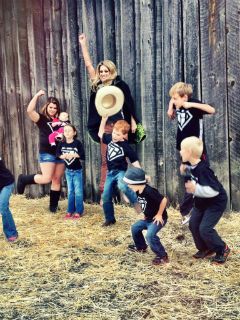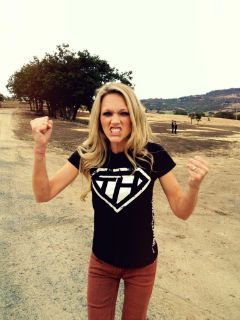 Pics and STUFF
1) i have a YouTube channel, here is my first video...filming thanks to my friends Winstin Tao and Jo & Andy Evins, editing thanks to Gordon Casey. 2) me and my couch named Ellen, just hanging out and having awesome chats. 3&4) just dreaming of being on Ellen's season 10. 5) a community of hero's at the website photo shoot for Tumor Hater inc. 6) hangin with the cutest haters around. 7) i hate so hard.
so.......i love Ellen.
how could one not? i even sort of named my couch 'Ellen' because its a dream of mine to sit and have a cup of tea with her. and now i get to whenever i want. though surely it isn't the same, its just the closest i may ever get. anyways...Ellen...she has the best heart ever and is 'a complete supporter of the underdog' as Patrick Dempsey said as he made a toast to her on her season 10 premier week.
she is incredibly inspiring and has been responsible for a majority of my laughter and smiles during the recovery of my most
recent surgery
in late March. honestly, her smile, her dancing, her glow lit up my room while i laid there unable to do very much for the first few months. the thing is, i'm sure you know what i'm talking about. chances are she has brightened your day too. i know i'm not alone. and that is just about the coolest thing. that she has THAT effect on everyone. although she doesn't know me, she has helped me heal. she has helped me laugh in the midst of so much pain. she has given me more drive to reach out and help other people despite my tumors and pain. though i may be 'recovered' from that surgery in march, i still live in a body
covered in tumors
that seek to hinder me, my passion, my joy and LIFE.
watching Ellen, is just one of the things that honestly helps me to not give my tumors a fighting chance. i can NOT lose. i refuse. she daily reminds me how amazing it is to help other people, to smile, to dance and to LOVE always. watch her show and look what can happen when just one person extends a helping hand! tumor hater inc will do that for others. that makes me giddy. i also want to inspire and encourage others to love themselves for who they are. as is.
starting this non profit, i honestly feel like i must be crazy. but at the same time, nothing has felt more right. it would be a dreamy dream come true if Ellen helped
Tumor Hater inc
. if she could help spread the word, anything. even just SAY 'tumor hater' would probably make my heart fall out my butt.
do you want to help this dream come true? not only would it just be rad to meet her, it would be...hmmm...insaine(?) incredible(?) freaking awesome(?) to have her stand behind tumor hater inc and what we believe. at tumor hater inc we believe in the importance of community coming alongside those in need to help them with the tumor-ey obstacles life can bring by providing financial assistance and emotional support.
share this video. share this post. share
tumor hater's faceboook page
. share share share. Ellen has multiple ways to be contacted.
twitter
,
facebook
, her
website
. she also has staff that you can contact, like
jeannie
,
amy
and
andy
! whether this reaches Ellen or not, the more people that know about Tumor Hater inc the more people can be helped. please help spread the word. spread the love, spread the hate.
Tumor Hater inc's website is almost ready, until then visit and 'like' our face book page!
also, if you are interested in getting your hate on, 'tumor hater' style and you have a PayPal...here is how you can get yourself some tumor hater gear...(obviously once the website is up, you can order from there, but until then, if you are interested...)
log on to your PayPal account
click 'send money'
enter kellysullivan@tumorhater.org into the address box
in the amount box, add up your shirt costs and enter it in. please add 5 dollars to help with shipping.
infant:
toddler:
youth:
6 months- $12 2t- $12 small- $15
12 months-$12 3t- $12 medium- $15
4t- $12 large- $15
women's:
mens:
xsmall- $20 small- $20
small- $20 medium- $20
medium- $20 large- $20
large- $20 xlarge- $20
xlarge- $20 xxlarge- $20
xxlarge- $20
in the details, write in what shirts you need and include the address where you want it to go.
and TA-DA!
you did it! i am pretty dang prompt on getting orders out too. AND id LOVE to see you in your shirt! send a picture of you getting your fierce on, your warrior face...your hater snarl...you get the idea to kellysullivan@tumorhater.org and i will post it on tumor haters facebook page!
i am hoping to raise a nice chunk of money to be able to cut someone a check by thanksgiving. lets do this guys!
P.S. The PayPal/donate button on THIS blog is NOT, i repeat IS NOT for tumor hater inc. the PayPal on the left side of your screen is to help pay for my own medical bills.
thank you every one for your support and for all of your love. i am SERIOUSLY blown away by all of you guys. not only have i been incredibly supported with my own tumor-ey adventure, you guys have also supported this non profit endeavor of mine and i am forever grateful!
xoxo